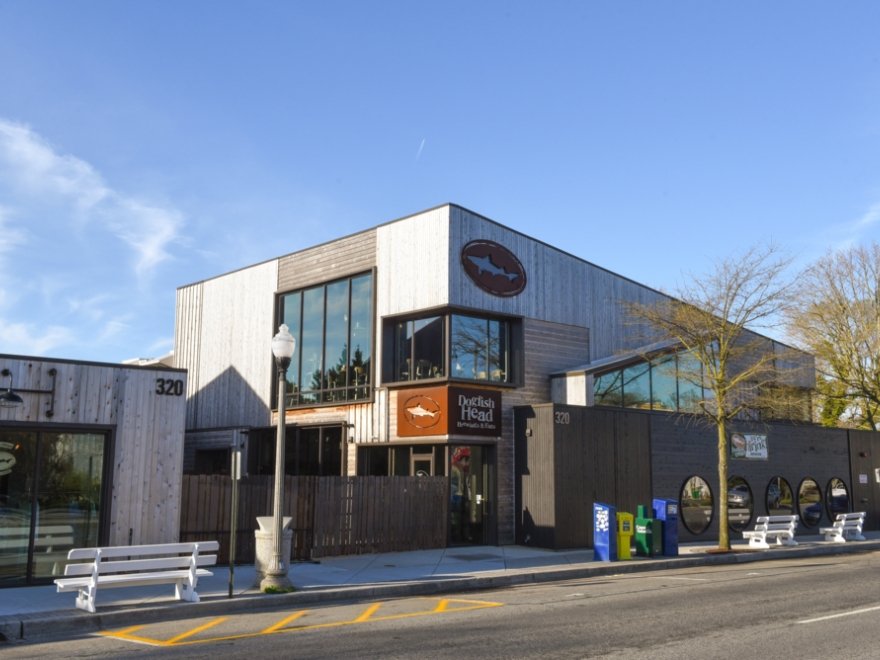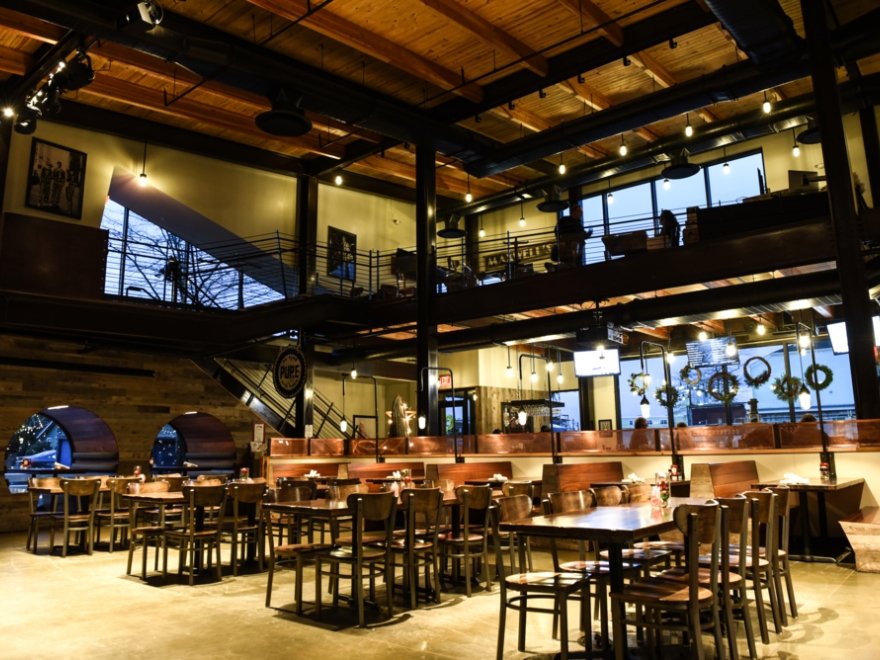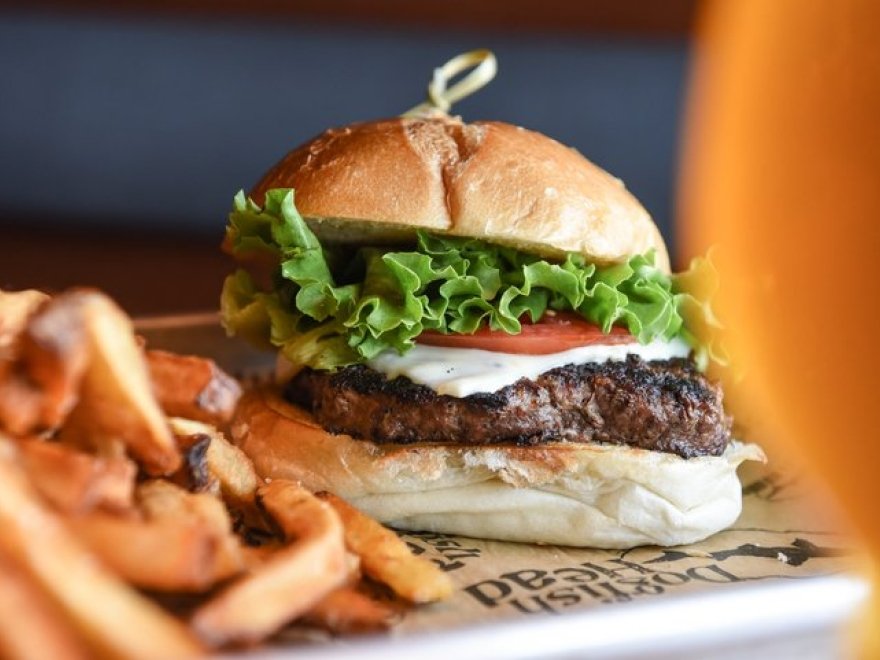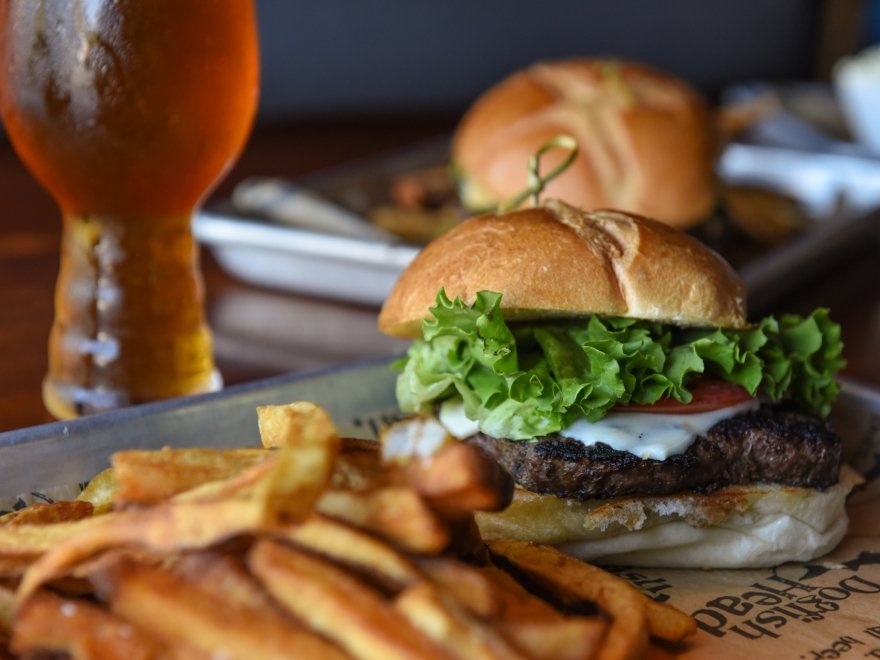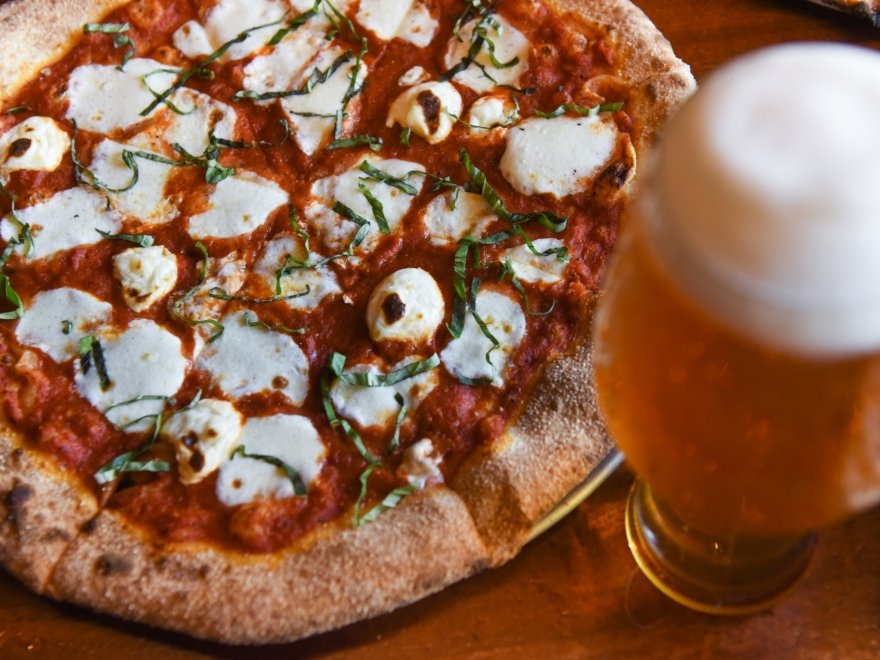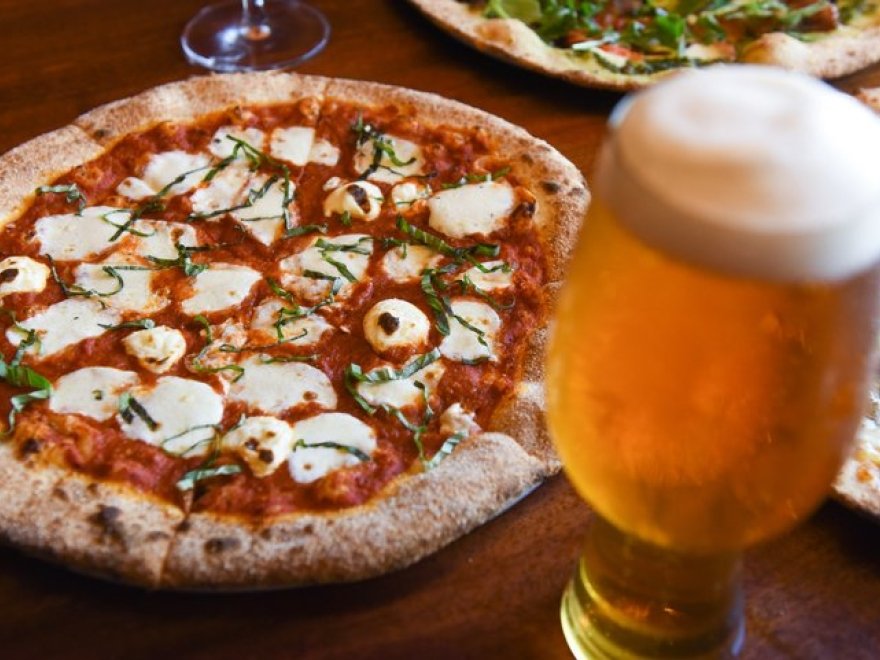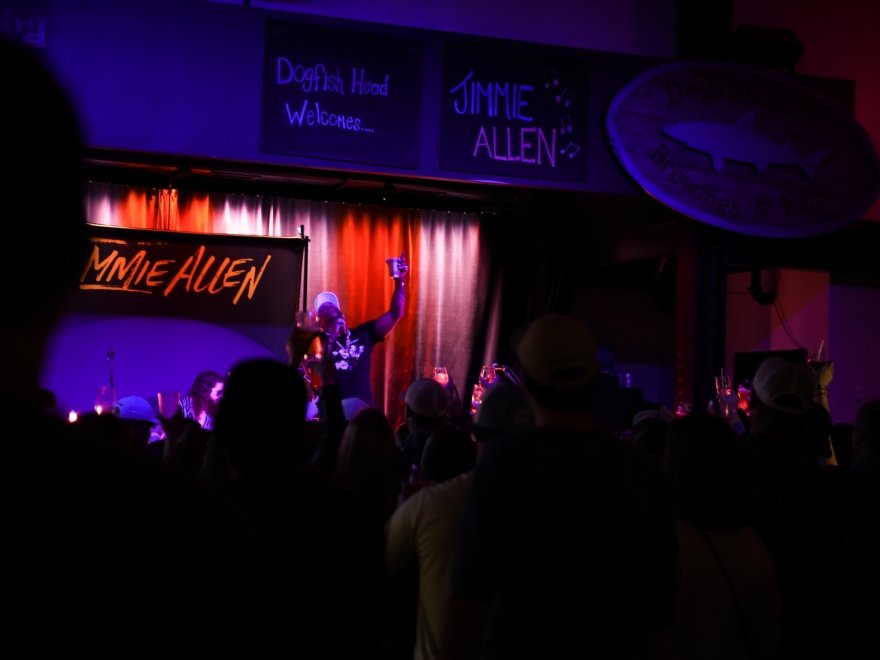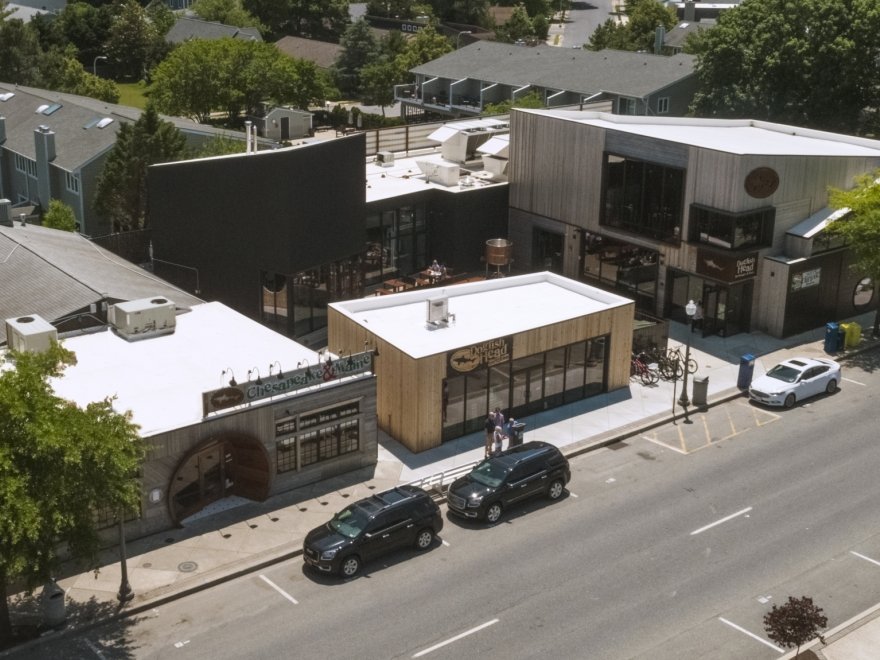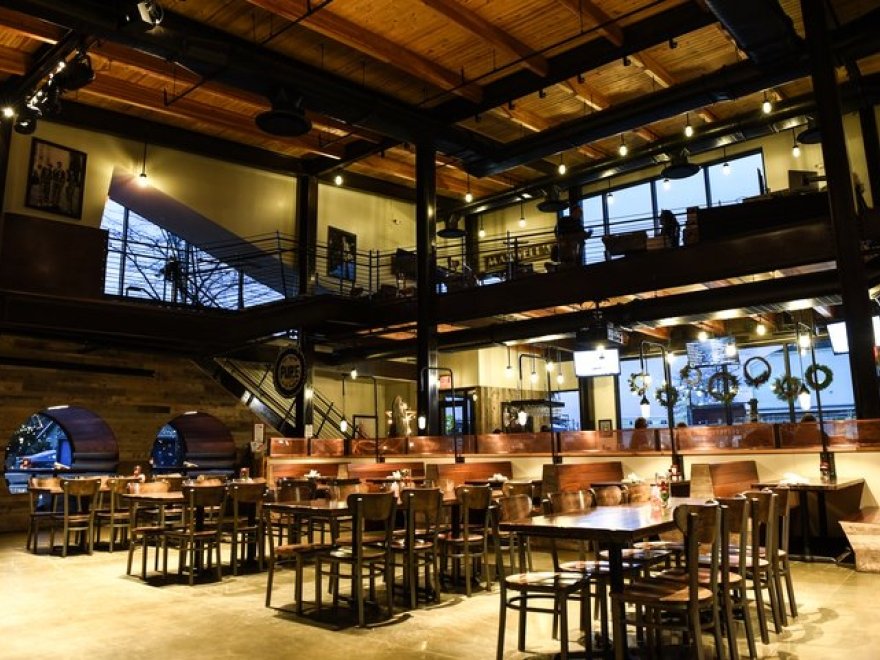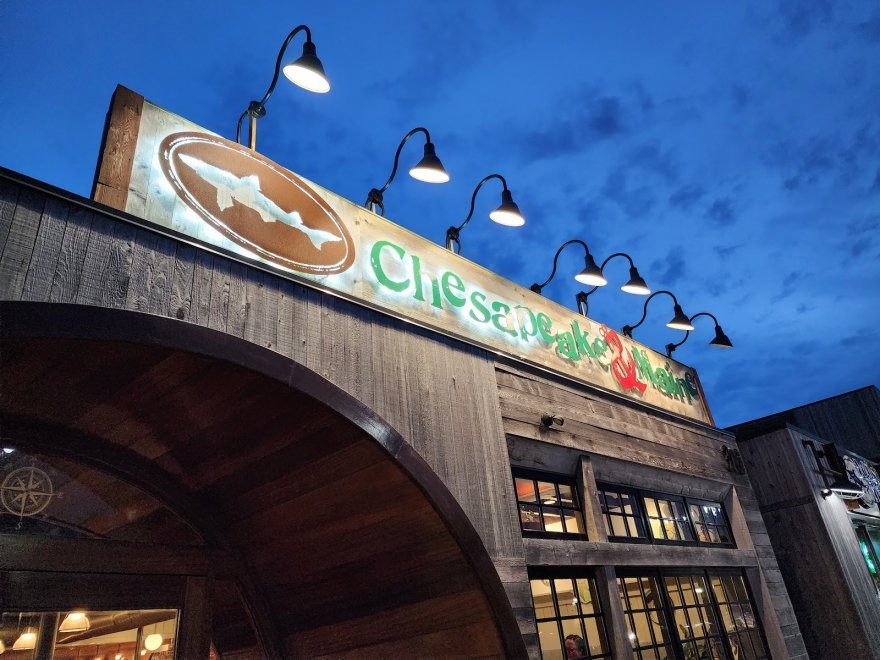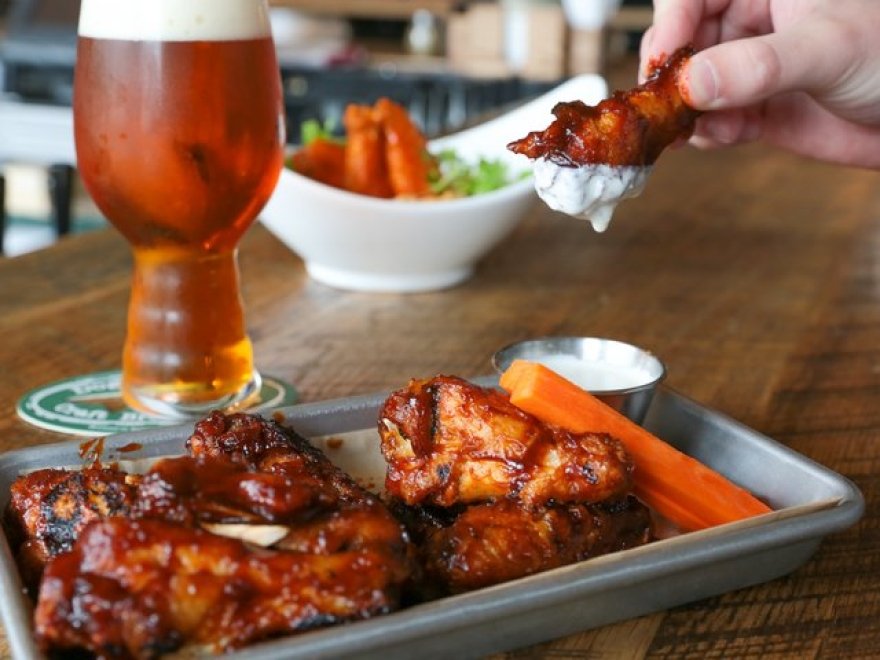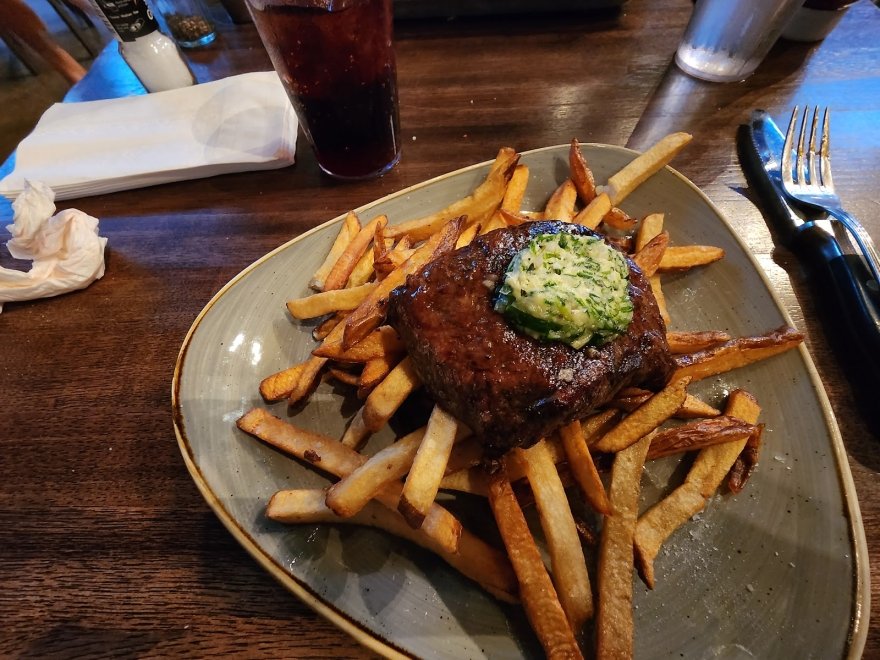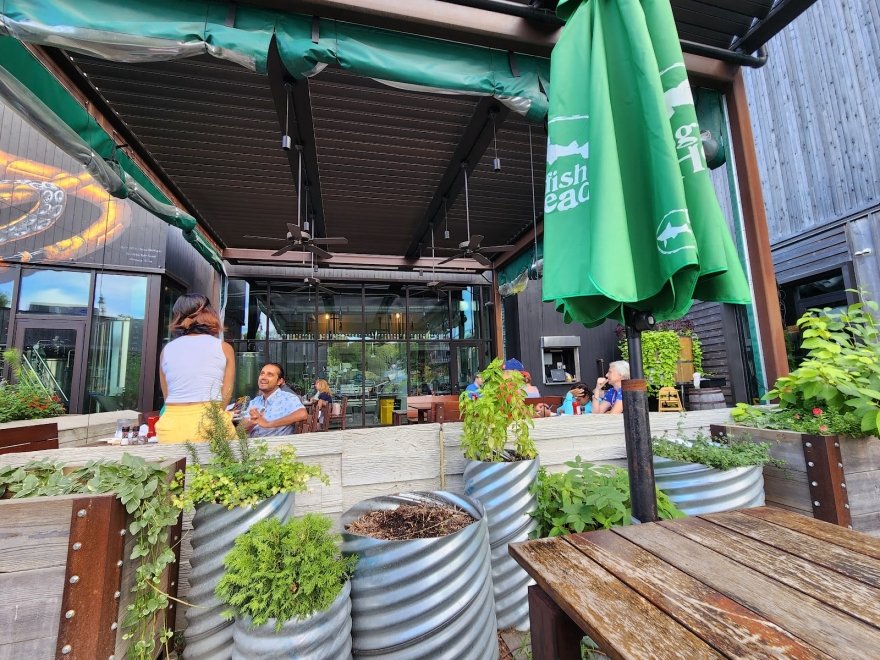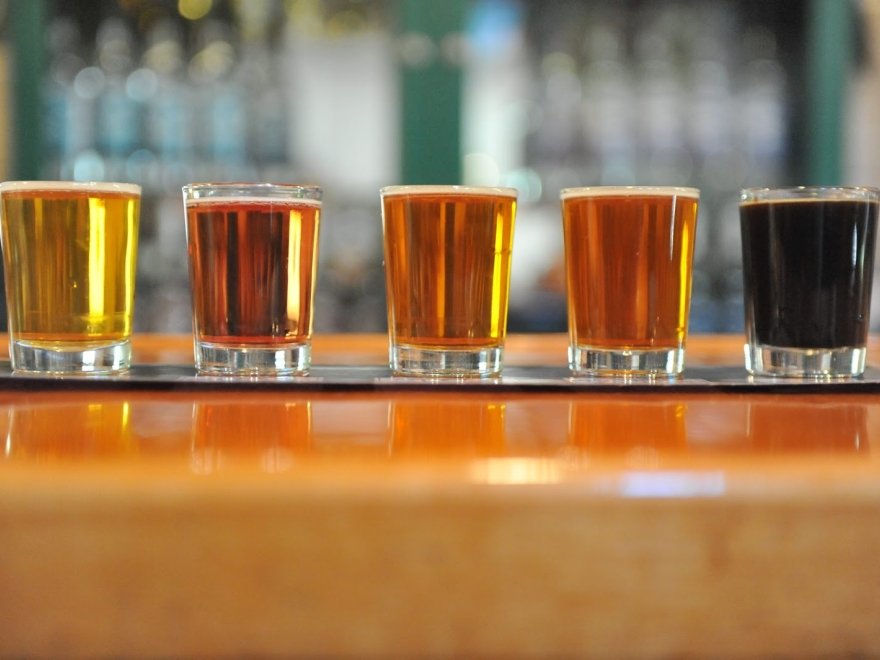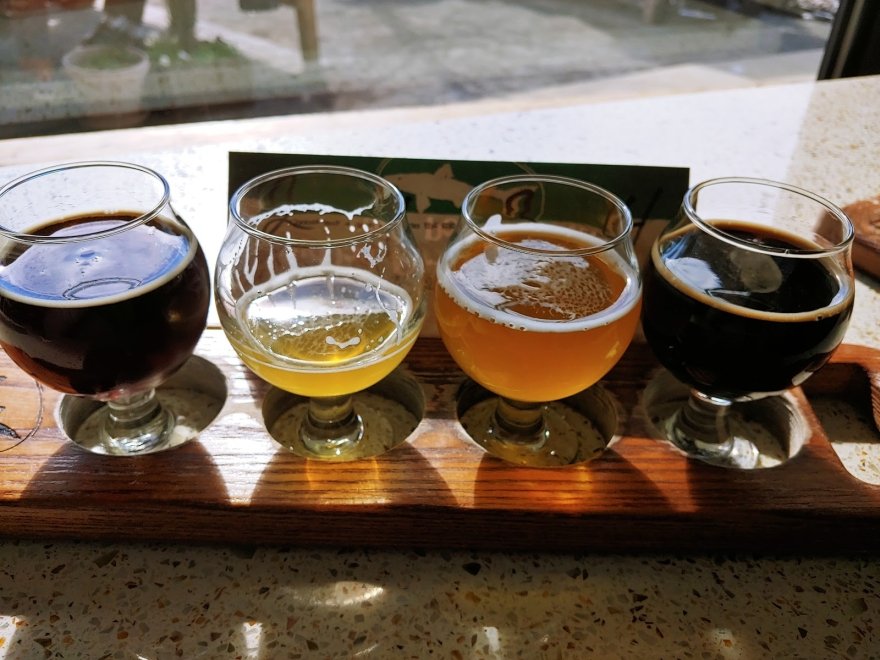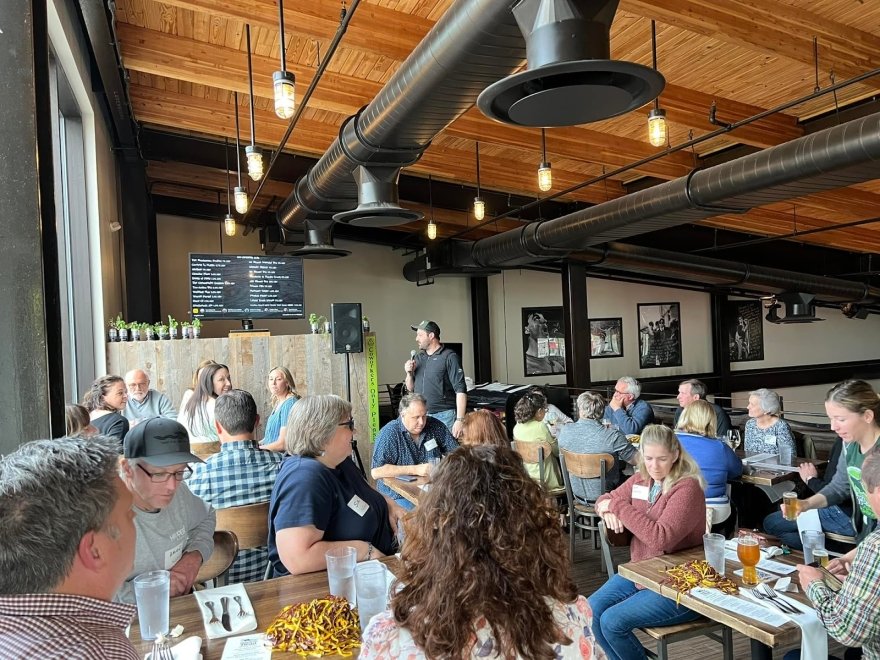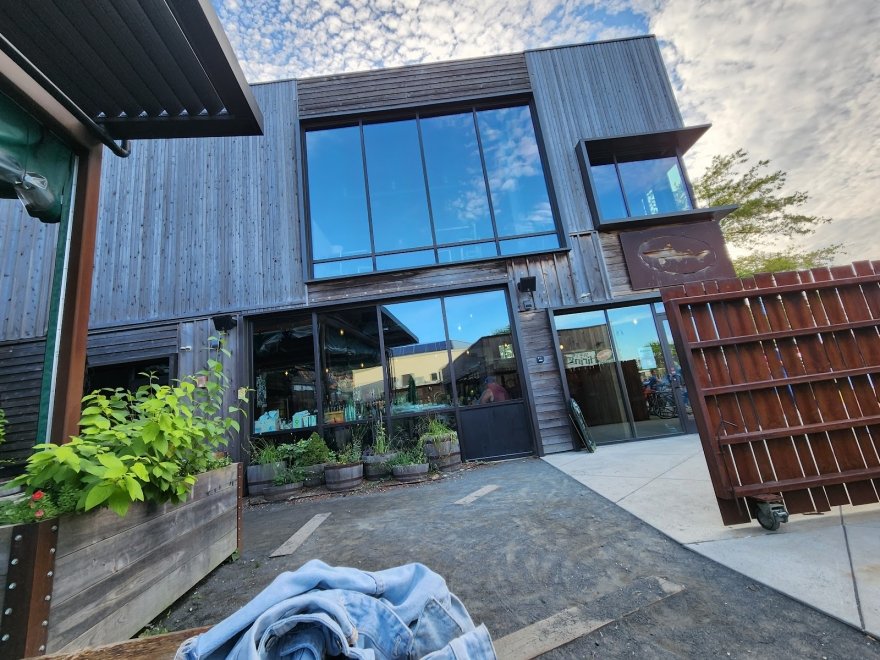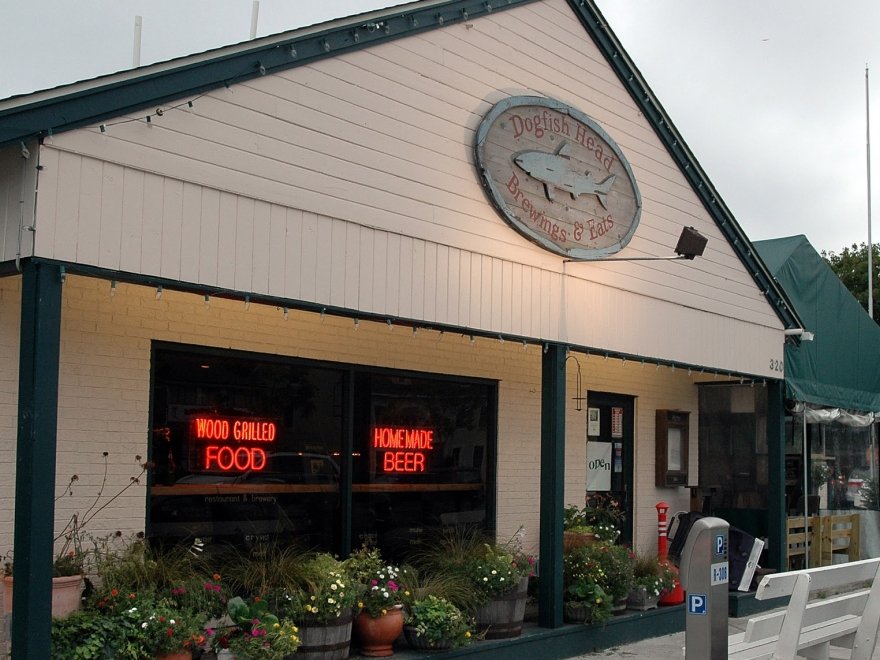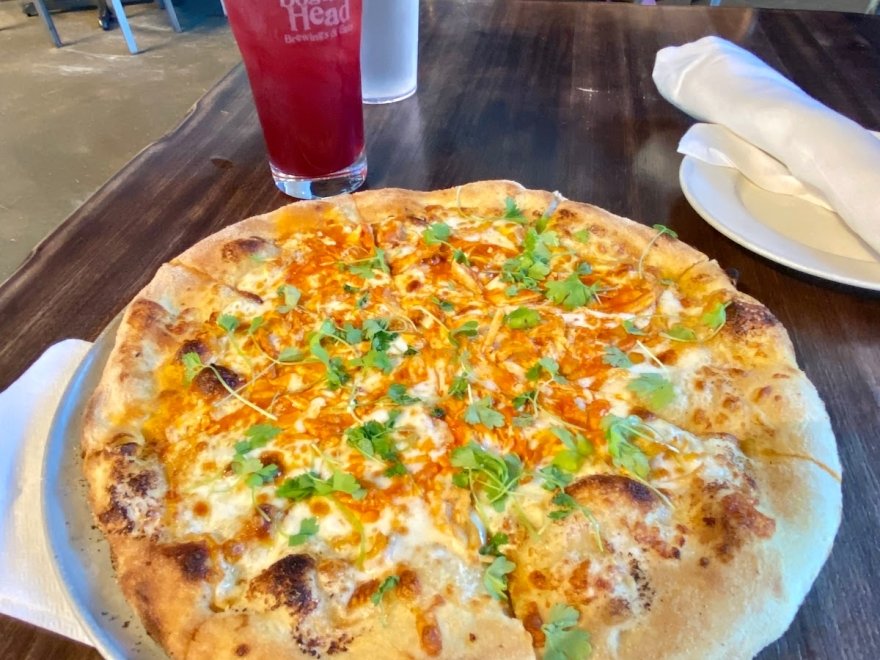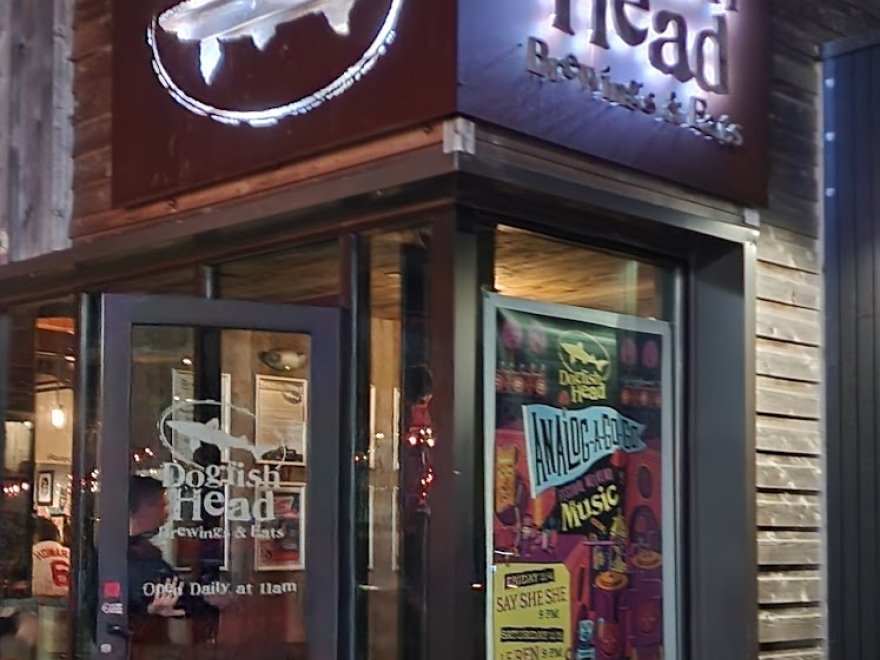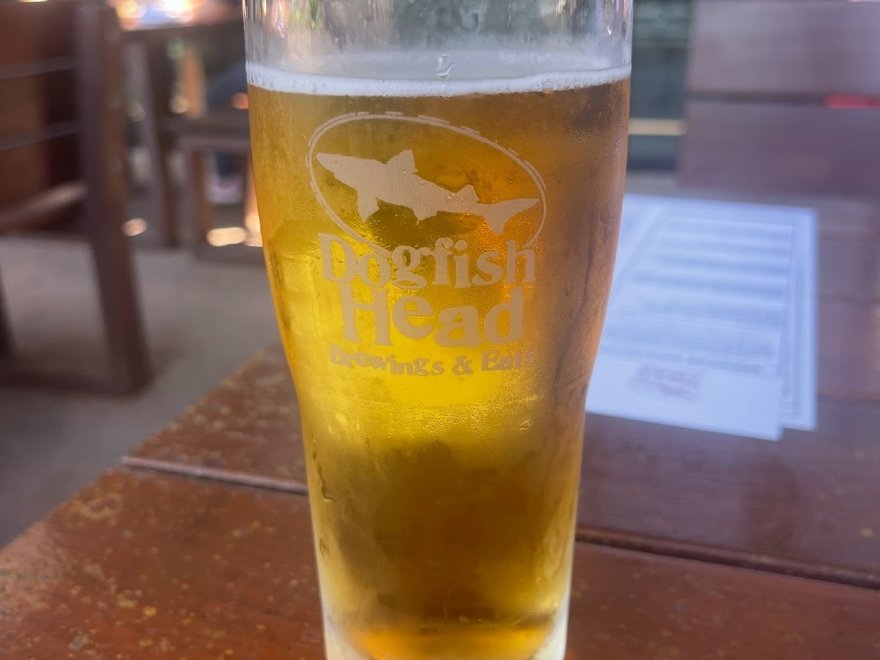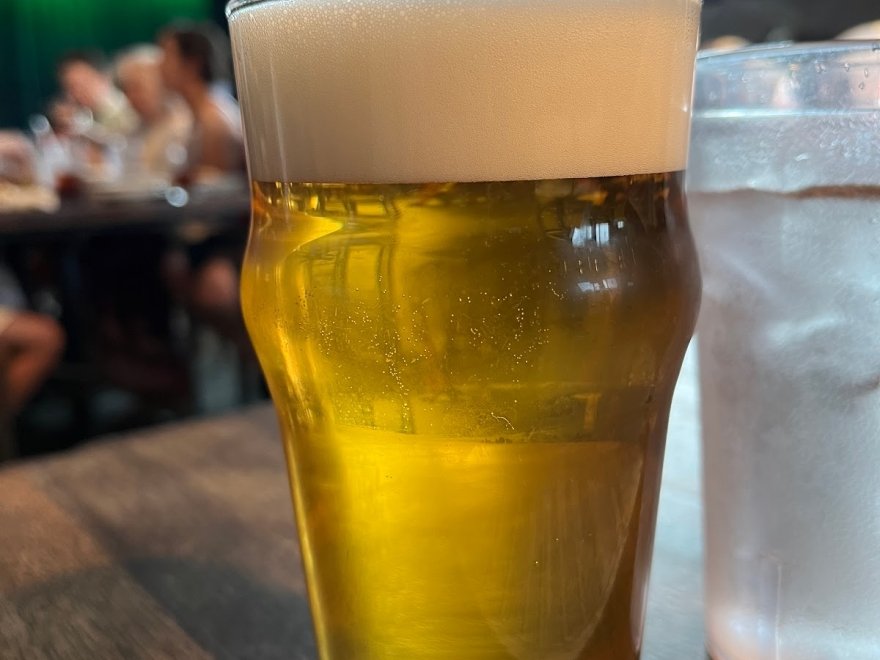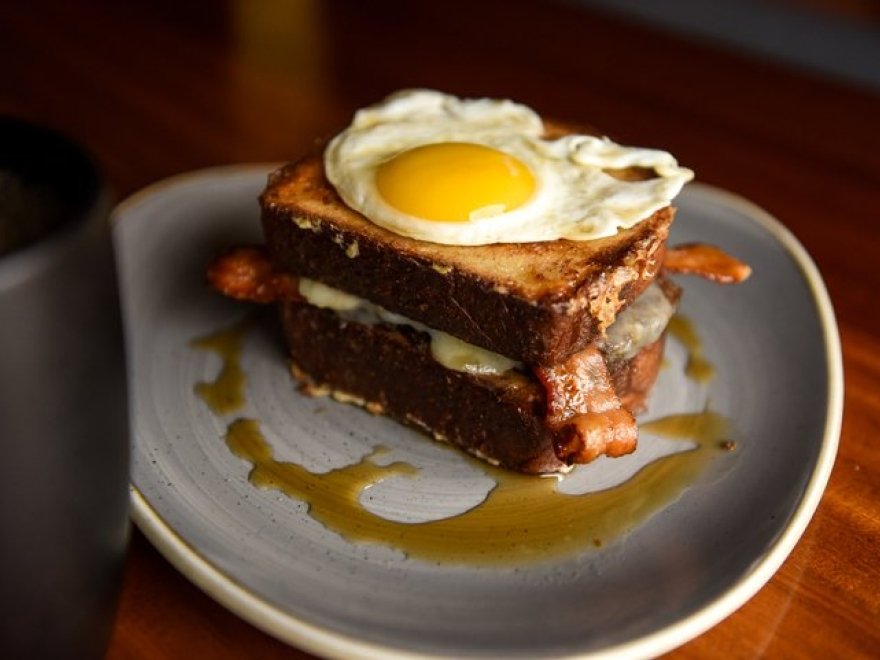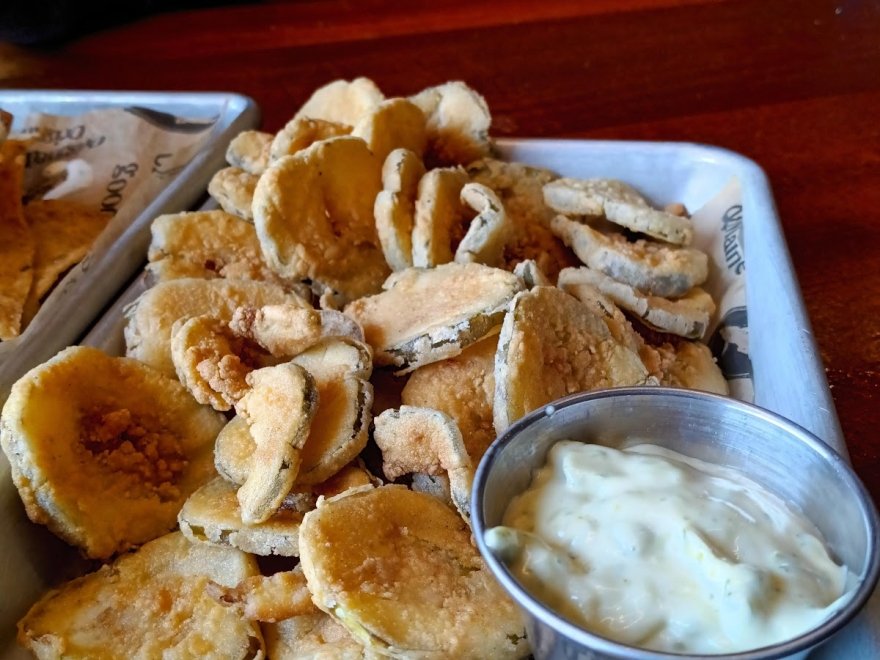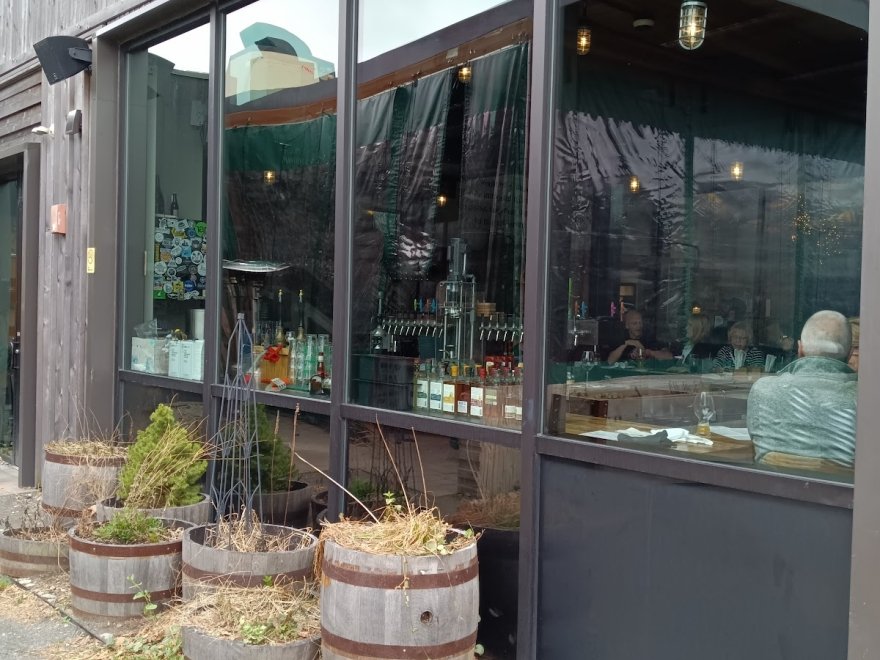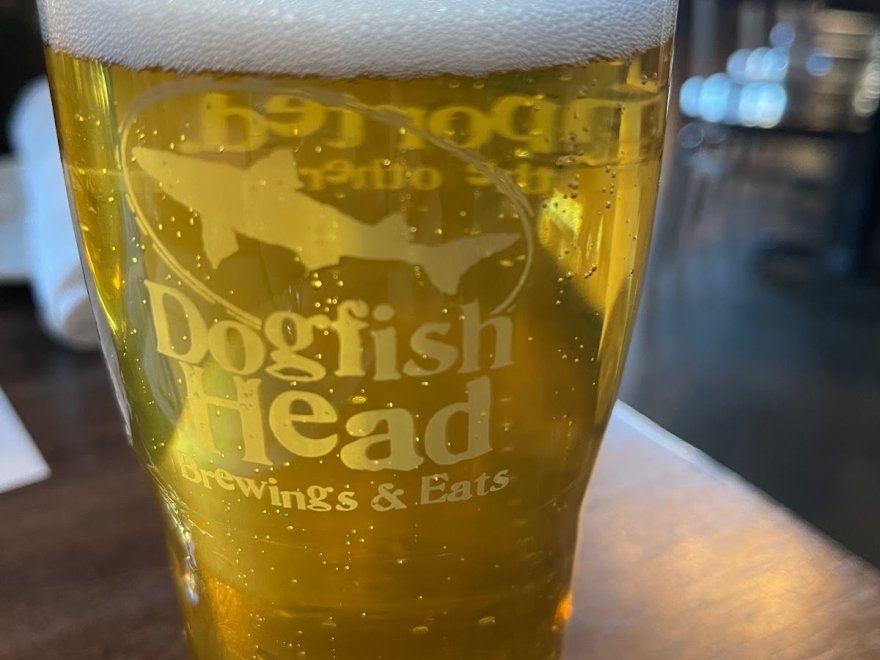 Dogfish Head Brewings & Eats
0 miles
Hours 11:00 am - 10:00 pm
Sunday

11:00 am - 10:00 pm

Monday

11:00 am - 10:00 pm

Tuesday

11:00 am - 10:00 pm

Wednesday

11:00 am - 10:00 pm

Thursday

11:00 am - 10:00 pm

Friday

11:00 am - 11:00 pm

Saturday

11:00 am - 11:00 pm
Epitomizing the soul of Dogfish Head since 1995, Brewings & Eats originated as the smallest commercial brewery in the United States and the beginning of the Dogfish Head story. Brewing only two or three 10 gallon batches a day on a glorified homebrew system, Dogfish founder Sam Calagione had the flexibility to indulge his off-centered whims, wandering into the brewpub's kitchen to grab handfuls of raisins, a cup of maple syrup, and even a scoop (or two) of roasted chicory.
It wasn't long before Sam's ever-hungry imagination lead him to experimenting with small batch vodkas, gins and rums, and in 2002 he began honing recipes and building a loyal cadre of spirit drinkers among guests. Serving up a menu of wood-grilled dishes and live music on the weekends, Brewings & Eats became known as the home of Original Beer, Original Spirits, Original Food and Original Music.
After over two decades in Rehoboth, we opened the new Brewings & Eats right next door to our original space with the same commitment to world-class food, beer, spirits and music. Our scratch-made brewpub menu features original pub fare like our Crab Corn Chowder, Seafood Tacos, House Baked Pretzel Bites and wood-grilled Indulgence Burger, alongside a selection of wood-fired pizzas from our stone hearth oven, sandwiches and tacos, soups and salads, and entrees! Phew! Stop by for a selection of off-centered ales including cask beers and Brewpub Exclusives only available at Brewings & Eats, as well as creative cocktails. We can fill up your Crowler or growler to-go!
Throughout the pub, you'll find artwork celebrating the creative, rebellious connection of three American art forms: punk rock, hip-hop, and craft brewing. Our state-of-the-art stage hosts regional and national acts all-year-round, strengthening our sentiment that the enjoyment of a beautiful beer while listening to original music at the same time is an exponentially awesome experience.
Recent Reviews
Dogfish Head Brewings & Eats
Elizabeth Wong : 5 on 7/6/2023 2:43 pm
I've known Dogfish Head Brewing since I was a kid. It's good to see that over the years and with their expansion, their restaurants are always on point and this one is no exception! The food is delicious, the beers are better and their cocktails are good! So dog friendly too! They have multiple dog bowls and bring the puppers their own ice water, great for hot days outside!
Elizabeth Wong
1688654596
Dogfish Head Brewings & Eats
N S : 5 on 7/2/2023 8:31 pm
Stopped in here on our brewery tour. The atmosphere was very nice and relaxing. We sat at the bar, and service was prompt, kind, and a little flirtatious 😊
We stopped in during the week, and it wasn't too crowded. Tried a few of their beers, which were tasty, as always.
I would definitely go here again.
N S
1688329914
Dogfish Head Brewings & Eats
Jason Persaud : 4 on 8/13/2023 12:26 am
I have been a fan of the brand for years and visited their brewery in Milton a few years ago. I was happy to see that the restaurant was in Rehoboth Beach and excited to visit during our family mini-vacation.

The restaurant has both indoor and outdoor seating. (No strollers allowed in the indoor area) We initially opted for outside and brought our stroller...but there was a decent amount of flies buzzing around so we took the stroller back to the car and opted for indoor seating...which was much more comfortable on my opinion.

The indoor section was great...lots of lovely Dogfish Head-inspired decor and large stage for whenever they have live music. There is the restaurant (tables and chairs) area and also a bar area toward the front of the space.

As expected, lots of beers on tap...including the high-coveted 120-Minute IPA....#$10 for 10 ounces...sounds good to me.

The food menu had some interesting options...we decided to get steak, wings, nachos and fries to share. Everything was okay-good...I can't say anything stood out.

The server was very pleasant, helpful and attentive.

Right next door is their "Empourium" which is an awesome concept...lots of take out beers (cans, bottles and growler fills) and tons of merch (pins, bottle openers, clothing, coasters...just to name a few). They also had Dogfish Head spirits...which I didn't even know they make (gin, vodka, rum and single malt)...quite a pleasant surprise. They were nice enough for me to sample some as well...I was your average kid in a candy store.

Parking is easy right on the main street. Meters are in effect May 15th through September 15th, 10am - 10pm...so make sure to pay during those times via credit card or using the app.

Would love to return if I am in the area again.
Jason Persaud
1691886386
Dogfish Head Brewings & Eats